Diesel Trucks For Sale in Prince Rupert, BC
Find Your Dodge Diesel Trucks for Sale at Rainbow Chrysler
Set yourself up for a great time on the road with the truck that has the features, capabilities and look that meets your needs. Whether that means you're going to get behind the steering wheel of the outstanding RAM 1500 or you need something that has more of a punch like the RAM 2500 or 3500 model - you'll find them here at Rainbow Chrysler. Enjoy the class-exclusive features on the RAM 1500 that include the amazingly well-optimized 3.0-litre EcoDiesel V6 engine. With 420 lb-ft of torque and 240 horsepower, this is a truck that will impress drivers across the country!
The RAM 1500 comes equipped with the fantastic 8-speed automatic transmissionstrong> on the EcoDiesel provides a rate as low as 8.0-L/100 km (35 mpg) highway and 11.3-L/100 km (25 mpg) city. How about driving home a 2500 or 3500? Equipped with the fantastic 6.7-litre Cummins Turbo Diesel I-6 engine. When you need more out of your vehicle and more out of your dealership - you're in great hands with the team at Rainbow Chrysler!
Ahead of the Curve - the RAM 2500
There are few diesel trucks in Prince Rupert that have the presence on the road and the options the way the RAM 2500 can easily boast. Finely tuned with the power of the 6.7-litre Cummins Turbo Diesel you'll receive as much as 350 to 370 horsepower depending on model specifications with a respective 660 lb-ft of torque up to 800 lb-ft of torque on 6-speed automatic models. You're going to have a great time on the road with the outstanding RAM 2500. Test drive one today at Rainbow Chrysler!
The Amazing Features of the RAM 3500
Do you want to be recognized for outstanding, ground-breaking capabilities? How about best-in-class features? Then it's time to see what the RAM 3500 can do for you. Set under the hood you'll uncover the same superior qualities of the 6.7-litre Cummins Turbo Diesel engine with transmission options for between 800 and 900 lb-ft of torque to make an impression wherever you're going or whatever you need to get done. Find your model today at Rainbow Chrysler!
Check Out the RAM Chassis Cab
Now, we know that there are those of you out there that want something a little different - something that you can personalize to meet your needs in ways you'd never considered before. For you we'd definitely advise checking out the RAM Chassis Cab with models equipped with the same rugged power of the 2500 and 3500, with a flexibility in specifications that makes for 320 to 325 horsepower and 650 to 750 lb-ft of torque. You'll find yours at Rainbow Chrysler!
Best-in-Class Features on the RAM Lineup
There are so many reasons why you should consider driving the RAM series, one of several diesel trucks for sale in Prince Rupert. Starting with the 1500 you'll discover best-in-class features that include low-end torque on the EcoDiesel engine, with the RAM 2500 stepping up to be recognized for its class-exclusive multilink rear suspension system followed up with the RAM 3500 and its best-in-class torque, and best-in-class GCWR. The answer to your truck needs is: RAM. All the way. Find yours at Rainbow Chrysler, today!
Latest Offers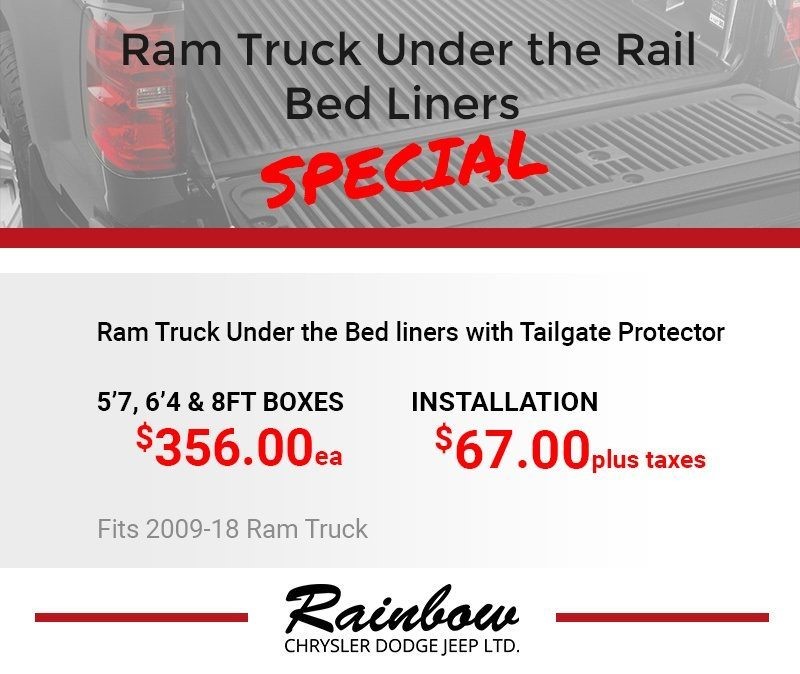 Browse Our Online Inventory for Your Next Vehicle
When it comes to finding the best quality vehicles that match an outstanding commitment to customer service you know you've chosen the right place with Rainbow Chrysler. Our team of automotive experts are sure to impress you with their product knowledge and friendly attitude when you come in to find your next favourite vehicle.
Join us today at 1105 Chamberlin Avenue in Prince Rupert, BC. We look forward to assisting you and providing the premier service with those who have experienced Rainbow Chrysler have come to expect.